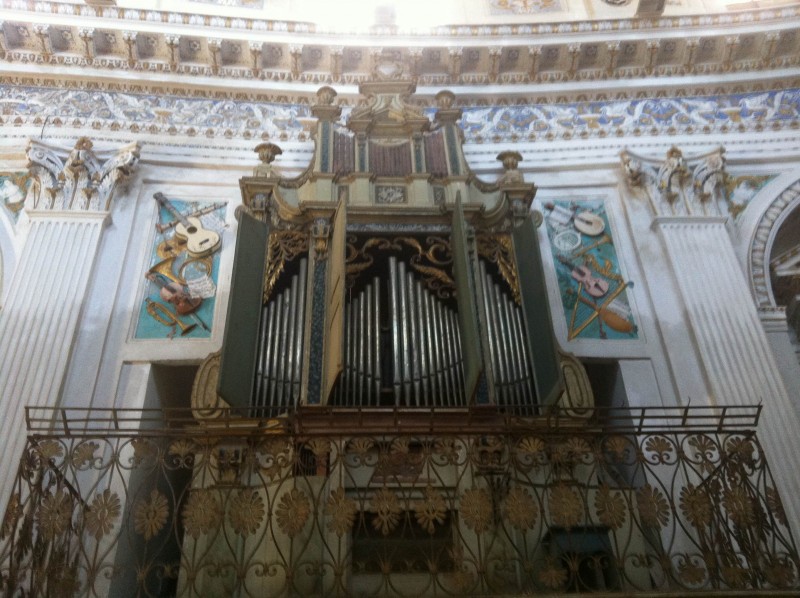 Notes from short trip to South-East Sicily – Scicli and Rosolini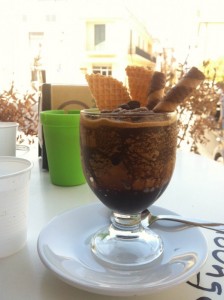 Last week, I went on a short trip to South-East Sicily with my friend and co-author Luciana. Enrico Russino, a visionary producer of aromatic herbs featured in Marketing del Gusto, invited us to present our book in his headquarters.
Sicily is one of the regions I hold dearest – and since I've travelled a lot across Italy, I guess that must mean something. The historic centres are full of the surprise effect that was so typical of Baroque architecture. Even when some facades look neglected and worn, spoilt by earthquakes that were too long ago to justify their current state, there's a melancholy I find hypnotising. Besides, wherever you walk, you always expect Montalbano to turn round the corner and greet you. 
We rented a car from Catania's airport and drove south towards Scicli. It took us a while, with a stop in Rosolini, almost half way. We drove across the town, looking for an open café, craving for an authentic granita. Almost every shop was closed, hardly anybody walked in the streets. A deserted village on a summer day, right after lunch. There was either a curfew, or everyone kept indoors. Of course it was the second option. The best remedy to the heat is and always will be a nap behind closed shutters. Like in the good old days when shops closed for a few hours at lunchtime – enough time to enjoy a family meal, and not just gulp it in 30 or so minutes.
A visit to Enrico Russino's Gli Aromi
Enrico Russino is indeed a visionary entrepreneur. He took on the family business, a nursery of aromatic herbs called Gli Aromi, and transformed it into a national enterprise, selling his plants all over with excellent use of social media, newsletters and the like. The presentation was held under a gorgeous passiflora porch, with the sea at sunset in the backdrop, The wind was strong, so strong it was hard to keep our books in display. Yet they told us it would calm down as soon as the sun would set, and indeed this was the case. Nature's magic. Enrico invited some chefs and patrons from local restaurants. This made the discussion around the book both stimulating and lively. Plus there were other clients as well who gave the ever precious customer's point of view.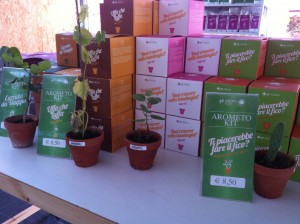 After the presentation he took us on a guided tour of his farm. Throughout this sensorial journey he invited us to touch and smell the leaves of the many varieties of mint, geranium, thyme and other herbs and plants. For each variety he seemed to have a story. There was mint that came in Africa. Leaves as soft as velvet. A plant originally from Japan with huge cream and brown flowers. A special geranium with a scent of rose all the noble families in Sicily would want to have in their gardens, in the old days. He even showed us how the plants are propagated, from minuscule to very small to small and on. A work requiring so much patience most people would go mad after half an hour.
The tour ended with a delicious aperitif made with vegetables and pulses and herbs of course – so refreshing.
Aruci's delicious brittle
Other producers were also there, including winery Planeta and a confectionery I fell in love with. It's called Aruci and is based in the very Rosolini that seemed so deserted at lunchtime. Nanni Buglisi, a young graduate in Economics returned to Sicily to run this business with his mother. They started a short time ago in the family kitchen until they realised the response was so good it was worth taking the leap and open a lab and a real shop. They now also organise tours and tastings. Everything is handmade. Any machine serves as an aid without forsaking the artisanal production.I can't recall tasting a brittle so fragrant and crispy. Delicious. They source all the ingredients locally, including the sesame seeds and almonds.
That's the beauty of Sicily: it's always been in the middle of the Mediterranean Sea, a crossroads of cultures, a melting pot (far, far before old Christopher Columbus put out to sea), from Magna Grecia to the Arab influence. All things you can still sense in the local cuisine. As in the sesame seeds which we so often associate with the Middle East, and are instead so close to us. Pastry chef Corrado Assenza from Noto (I'll write about him in the next few days) recently said "kilometro zero" cooking, the one that only uses very local products is limited. He says it doesn't take into consideration how our cultures are all intertwined, even when it comes to food. And in times like these, this is something we should always remember.
Scicli by night
That we had perhaps chosen the wrong moment to visit Rosolini was something we realised later on that night. After the lovely evening at Gli Aromi, we went for a short walk around Scicli. We were staying at the "albergo diffuso". It's a scattered hotel, a network of rooms around the historic centre. They're all equipped like hotel rooms though they are not in the same building.
Map in hand, we walked through the alleys and squares, looking in awe at the Baroque facades. We entered a church with striking blue and white decorations inside: nothing you'd expect having seen the monochromatic outside. And we saw the streets crowded with people of all ages. Some were still sitting at the tables set in the squares, some were walking around just like us. Thousands of people who had been hiding when the sun was too high, too hot. By now it was quite clear.
(in the large photo, the decorated organ in the church of Santa Teresa)