Le mie poesie, a Londra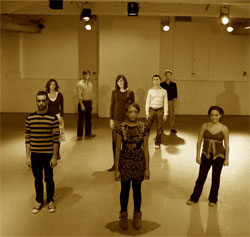 Angels… and other stratospheric themes
Think of a carol concert. Then think very differently.
Qualcuno avrà notato che ultimamente su queste pagine sono apparse alcune poesie in inglese, per giunta su uno stesso tema. Ora risolvo l'arcano visto che c'è stato pure chi mi ha chiesto… perchè?
Venerdì 14 dicembre a Londra alcune mie poesie – non solo quelle apparse qui – verranno lette in occasione di uno spettacolo che vedrà in scena attori, ballerini e un coro gospel. Il tutto alle 8 p.m. presso la Bloomsbury Central Church, a due passi da Covent Garden.
Ecco la pagina dell'evento. Ovviamente dietro c'è lo zampino di mio fratello… 😉